Meetings
The Lake Onalaska Protection and Rehabilitation District holds an annual meeting in August or September of each year, where the budget is reviewed and informational presentations and speakers are available. Throughout the rest of the year periodic (approximately monthly) board meetings are held, depending on the urgency of Lake District issues. All meetings are open to the public and follow Wisconsin's open meetings law.
Meeting Minutes
Annual Meeting minutes are listed below
Lake District Annual Meeting, September 8, 2020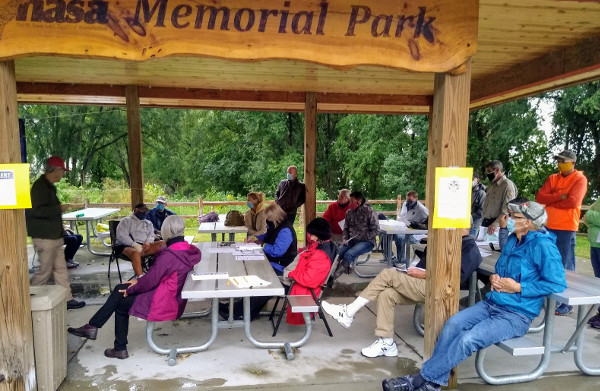 The Lake District held its annual membership meeting outdoors at the NASA Memorial Park Shelter adjacent to Mosey Landing on Brice Prairie on September 8, 2020. State statutes required the meeting to be held inperson. Covid-19 precautions were observed, including wearing masks and social distancing. Turnout was lower than usual due to the setting and chilly 50 degree temperatures with light rain. Elections were held with Barbara Friell being re-elected, and Connie Welch voted into the seat formerly held by Jeff Reabe, who resigned at the end of his term. The District is moving forward with improving access by cutting vegetation in buoyed travel routes, and steps to create a lake management plan.
Annual Meeting Notice and Agenda (pdf document)
Map of Meeting Location (W7207 N Shore Ln, Onalaska, WI 54650)
Proposed 2020-2021 Budget (pdf document)
Treasurers Report
Natural Resource Agency Reports for Annual Meeting

U.S.Fish and Wildlife Service (Tim Miller, La Crosse District Manager)
Wisconsin Deparment of Natural Resources

2020 Meeting minutes will be posted here as they become available

Prior Annual Meeting Minutes