Lake Onalaska is a 7,688 acre body of water created when Lock and Dam #7 inundated former backwater areas of the upper Mississippi River in 1937. The entire Lake is within the Upper Mississippi National Wildlife and Fish Refuge and all of the shorelands surrounding the Lake are owned by federal agencies (U.S. Fish and Wildlife Service and U.S. Army Corps of Engineers). The Lake Onalaska Protection and Rehabilitation District is an association of property owners whose land adjoins the federal shorelands, formed under Wisconsin Statutes, to play a role in the planning and management of the Lake's resources (more info.). Lake Onalaska has abundant fish resources, hosts large numbers of migrating waterfowl in spring and fall, and provides diverse human recreational interests.
---
---
Lake Planning Grant Submitted
The Lake Onalaska Protection and Rehabilitation District submitted an application for a Wisconsin Surface Waters grant for lake management planning in December 2019. The proposed project would describe the current status of Lake Onalaska and draft a comprehensive lake management plan. Existing data will be used to quantify lake loss from sedimentation; map submerged aquatic vegetation; inventory and identify gaps in monitoring data; summarize stakeholder and agency goals; clearly describe the management responsibilities of the complex overlapping local, state, and federal jurisdictions; and develop a management and information-sharing partnership framework.
Donations Requested for Weed-Cutting Lanes
The LOPRD is requesting donations to cut weeds in "travel corridor" lanes to improve access from shore areas to deeper waters of Lake Onalaska. The funds will be used to pay a contractor to cut and remove vegetation. Donations can be made by Paypal:
or checks may be mailed to:
BMO Harris Bank attn: Maggie Kanz 1300 Rose Street
La Crosse, WI 54603 Reference: "Lake Onalaska Weed Cutting Donation", account# xxxxx3889
Cutting vegetation to improve access was approved by a USFWS Compatibility Determination in 2019, for travel corridors within certain mapped areas of Lake Onalaska.
More Aquatic Invasive Species Found on Lake Onalaska
In early October 2015, Water lettuce and water hyacinth were found rapidly spreading near the Brice Prairie shoreline after they were released from a garden pond. USFWS issued a news release about water lettuce on Pool 7. The Lake District has played a very active role in removing these species. For more information and a chronology of events see our invasive species page. No water lettuce or water hyacinth plants were reported during 2016.
In early June 2016, yellow flag iris, a restricted species in Wisconsin, was observed blooming in several isolated clumps near both Mosey Landing and Fred Funk landing on Brice Prairie. Lake District residents, USFWS and Wisconsin Rivers staff and other volunteers removed the plants. Yellow flag iris can spread widely through floating seeds and displaces native shoreland vegetation.
Upcoming Meetings and Events
April 1 - 3, 2020 , Wisconsin Lakes & Rivers Convention, Stevens Point

The Wisconsin Lakes & Rivers Convention, brings together hundreds of waterfront property owners, citizens concerned with clean, healthy lakes and rivers, academics, agency staff, and government officials to learn, network, and enjoy three days of powerful topics about the management and care of Wiscosnin's waters. The 2020 Convention theme is "resilience", commemorating the recent passing of legendary ecologist C.S. Holling.

Early May, 2020, La Crosse County area River cleanup, Pools 7 and 8

The Brice Prairie Conservation Association and Brice Prairie EMS & Rescue will be coordinating the Brice Prairie portion of the cleanup from Fred Funk landing, with check-in starting at 8am. Trash bags will be provided. Bring a boat if you have one, or just come to the landing and b ring a PFD - there will be some opportunities to ride along on others boats. Wear boots and clothing appropriate to the day. This cleanup from this landing focuses on upper Pool 7 around Brice Prairie, and includes the Black River Delta area upstream to Trempealeau. Please pre-register to participate. For more information see: http://mississippirivercleanup.com/
Fred Funk Landing Reopened After Major Renovation
A grand re-opening celebration for the Fred Funk landing project was held on September 7, 2019. This landing provides access to the Mississippi River backwaters, including Lake Onalaska from Brice Prairie, adjacent to Swarthout Park. The renovations include installation of the following: two new boat ramps and adjacent asphalt surfaces, 2 new docks, LED light poles to increase visibility, ADA accessible sidewalks, 2 storm-water detention ponds, a 2 panel kiosk, a new entry sign (by Charlie Lipke) and new striping on the parking areas. An ADA accessible fishing platform will also be installed with funds provided by the U.S. Fish and Wildlife Service. The celebration was followed by a public pontoon tour rides, hosted by Schafer's Marine Services, to see a demonstration of a travel corridor established by aquatic vegetation cutting and removal and marked by red and green navigation buoys. This method will be used to create future boat travel corridors on Lake Onalaska.
COE Revising Its Master Plan
The St. Paul District is updating the strategic land use and recreation management document that will guide the district"s comprehensive management and development of natural, recreational and cultural resources of the Upper Mississippi River basin for years to come. The master plan, while conceptual in nature, will serve as the vision for both environmental stewardship and recreation as the Corps continues to serve the public in the 21st Century. A series of public meetings were held over the summer of 2019. A revised draft plan is expected in early 2020. For more information see: www.mvp.usace.army.mil/Upper-Mississippi-River-Master-Plan/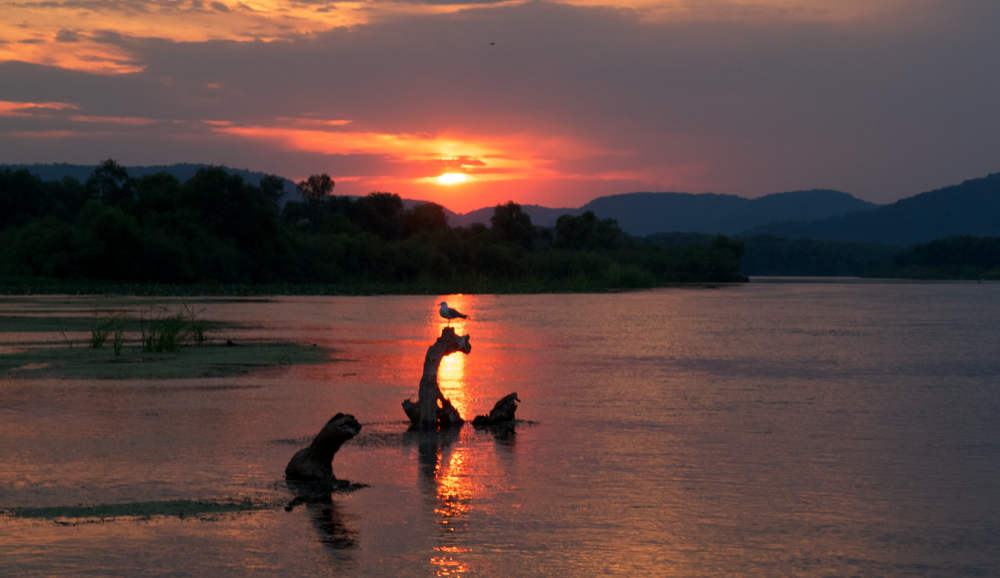 Steve Marking Photo