Lake Onalaska is a 7,688 acre body of water created when Lock and Dam #7 inundated former backwater areas of the upper Mississippi River in 1937. The entire Lake is within the Upper Mississippi National Wildlife and Fish Refuge and all of the shorelands surrounding the Lake are owned by federal agencies (U.S. Fish and Wildlife Service and U.S. Army Corps of Engineers). The Lake Onalaska Protection and Rehabilitation District is an association of property owners whose land adjoins the federal shorelands, formed under Wisconsin Statutes, to play a role in the planning and management of the Lake's resources (more info.). Lake Onalaska has abundant fish resources, hosts large numbers of migrating waterfowl in spring and fall, and provides diverse human recreational interests.
---
Upcoming Meetings and Events
September 1, 2015: Annual Lake District Meeting
The Lake Onalaska Protection and Rehabilitation District will hold its annual meeting on Tuesday, September 1, 2015 at the US Geological Survey Building at 2630 Fanta Reed Road, adjacent to the La Crosse airport on French Island.
Educational booths and presentations: 5:00-6:45pm
Business meeting: 6:45-7:00pm
Annual meeting: 7:00-8:30pm
Lake Front Yard Tours
The Lake District is sponsoring educational shorelands tours on four Tuesdays during of August 2015. All tours will occur from 5-8pm.
Aug 4: New U.S. Fish and Wildlife OverLook on County Road ZB on Brice Prairie
Aug 11: Kathryn Lammers & Steve Miller, 2727 Bayshore, French Island
Aug 18: Fred Funk Landing, W8020 County Road ZB, (on Brice Prairie across from Swarthout Park)
Aug 25: Fritz Funk, W7811 County Road ZB, Brice Prairie
New U.S. Fish and Wildlife Service La Crosse District Manager
Tim Miller is now onboard as our new La Crosse District Manager, replacing recently-retired Jim Nissen. Tim comes to us from the Union Slough National Wildlife Refuge in Iowa, and brings with him a wealth of knowledge working with tribal, state, and local governments, Friends Groups and other conservation organizations, and a broad diversity of natural resources stakeholders. (Official Announcement)
U.S. Fish and Wildlife Service Saturday Programs
All programs are free to the public and are located at the Upper Mississippi River National Wildlife and Fish Refuge Visitor Center at N5727 County Road Z. Contact Ranger Katie Julian(608)779-2391 for additional information. Most programs begin at 10:30 am unless stated otherwise.
July 25: 10:00 a.m.: Discovering Dragonflies and Damselflies

Born in the water, dragonflies and their lesser-known relative, damselflies, have emerged in their winged adult form to paint the prairie with splotches of color. Join local dragonfly/damselfly expert, Dan Jackson, as he shares findings about the species he has collected on the refuge with special permission from the U.S. Fish and Wildlife Service. Mr. Jackson will share identification tips, personal photographs of dragonflies/damselflies, and reflections on the species he has seen here. Following the presentation, come for a walk to identify dragons and damsels together! People of all ages are welcome to attend the program, though the level of information shared will be best enjoyed by teens and adults. Please let us know by July 23 if you plan to join us.

August 8: 9:00 a.m.: Summer Phenology Hike on the Prairie

"Phenology" is a scientific word that describes the seasonal changes in what's happening outside in nature! Come join a Refuge Ranger for an informal walk on the prairie to look and listen for birds, blossoms, butterflies, and more! We will walk up to two miles on paved and gravel surfaces. Please wear closed-toed shoes. Participants may wish to bring a water bottle, sunscreen, a sunhat, and binoculars. We will meet outside by the 3-panel kiosk next to the Visitor Center parking lot. Please note that the Visitor Center will not open until 10:00 a.m., but outdoor restrooms and a water fountain are available. People of all ages are invited to participate. Please let us know by August 6 if you plan to join us.
Fred Funk Landing Plans
Semi-final versions of the plans for the upgrades at the Fred Funk Boat Landing on Brice Prairie were presented by MBA Architects in autumn 2014. These plans are being used for working through the permitting processes with various agencies:
COE Revised Land Use Allocation Plan
The U.S. Army Corps of Engineers has released a Land Use Allocation Plan (LUAP) document (link to pdf) which updates the original 1983 Master Plan with the intent of providing better information from modern aerial photos and Geographic Information Systems. The document states that "there are no new policy changes made or suggested in this document". The LUAP is used to guide federal agencies in determining what types of public uses should be allowed on federal lands along the upper Mississippi River.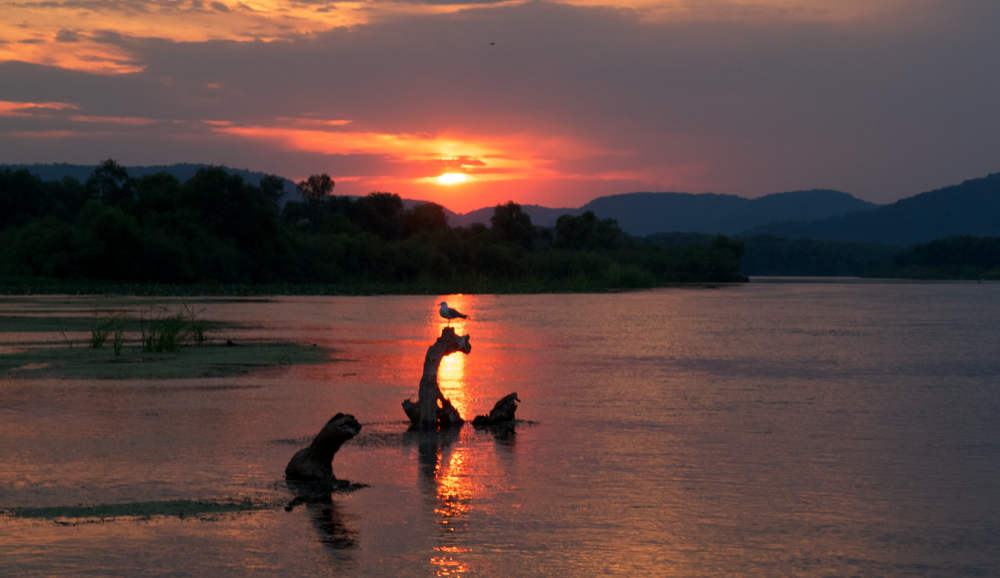 Steve Marking Photo