Lake Onalaska is a 7,688 acre body of water created when Lock and Dam #7 inundated former backwater areas of the upper Mississippi River in 1937. The entire Lake is within the Upper Mississippi National Wildlife and Fish Refuge and all of the shorelands surrounding the Lake are owned by federal agencies (U.S. Fish and Wildlife Service and U.S. Army Corps of Engineers). The Lake Onalaska Protection and Rehabilitation District is an association of property owners whose land adjoins the federal shorelands, formed under Wisconsin Statutes, to play a role in the planning and management of the Lake's resources (more info.). Lake Onalaska has abundant fish resources, hosts large numbers of migrating waterfowl in spring and fall, and provides diverse human recreational interests.
---
Upcoming Meetings and Events
March 4, 2015: Lake District commissioners will hold a public meeting at 4:00pm at the US Fish and Wildlife Service Visitor Center on Brice Prairie (address: N5727 CTH Z).
April 23-25, 2015: Wisconsin Lakes Partnership Convention, Stevens Point. This unique convention brings together citizen scientists, businesses, and lake, river and wetland professionals to interact, learn, share and engage with one another to ensure a healthy future for our waters. Don't miss "Back to the Point", explaining Wisconsins Lake Districts, developed for the 2014 Convention.
U.S. Fish and Wildlife Service Saturday Programs
All programs are free to the public and are located at the Upper Mississippi River National Wildlife and Fish Refuge Visitor Center at N5727 County Road Z. Contact Ranger Katie Julian(608)779-2391 for additional information. All programs begin at 10:30 am.
February 28: Celebrating the Legacy of Aldo Leopold. A variety of fun and free activities will be offered to honor the life of Aldo Leopold, beginning at 9am at the visitor center. At 10:45am a BBC documentary featuring storyteller Kenny Salwey, "Natural World – Mississippi, Tales of the Last River Rat" will be shown. The film is about an hour in duration. (more information)
March 7: Igniting the Spark: How Prescribed Burns Restore Prairie Ecosystems. Everyone is invited to come see first-hand the tools of the trade for a wildland firefighter and to find out more about how fire revitalizes prairie ecosystems. This program is best suited for school aged children and above.
March 21: Pre-European People on Brice Prairie: 13,000 years of Adaptation from Big Game Hunters to the Region's First Farmers, presented by Connie Arzigian, Archaeologist at the University of Wisconsin-La Crosse and Mississippi Valley Archaeology Center. This illustrated talk will discuss how people lived in this area, used the local resources, and how their way of life changed over time. Examples of different tools and pottery will be on display. This program will be best enjoyed by teens and adults.
Fred Funk Landing Plans
Semi-final versions of the plans for the upgrades at the Fred Funk Boat Landing on Brice Prairie were presented by MBA Architects in autumn 2014. These plans are being used for working through the permitting processes with various agencies:
COE Revised Land Use Allocation Plan
The U.S. Army Corps of Engineers has released a Land Use Allocation Plan (LUAP) document (link to pdf) which updates the original 1983 Master Plan with the intent of providing better information from modern aerial photos and Geographic Information Systems. The document states that "there are no new policy changes made or suggested in this document". The LUAP is used to guide federal agencies in determining what types of public uses should be allowed on federal lands along the upper Mississippi River.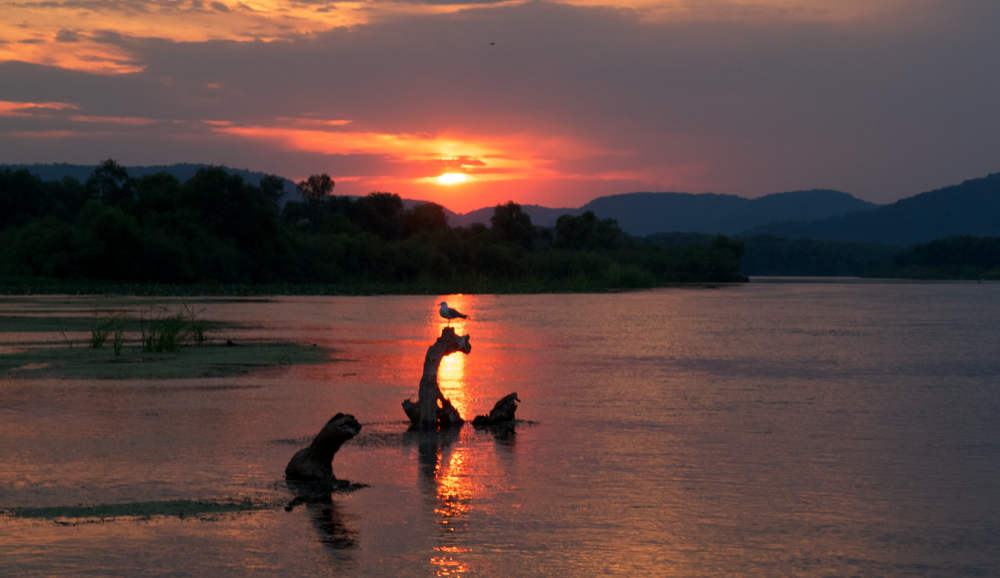 Steve Marking Photo